Health and Safety Injuries
If you have been involved in an accident due to poor health and safety procedures in a public place or at work, you may be able to claim compensation for these health and safety injuries. Accidents due to health and safety can involve slipping on a wet floor, being hit by moving machinery, injury caused by unstable fixtures and a whole lot more.
Whether you are in a public or private location when your accident occurs, authorities have a duty to make sure that the area is safe, and there are strict guidelines that they need to abide by. If you have had an accident which is not your fault and could have been prevented, call us today to make a claim.
Making a Claim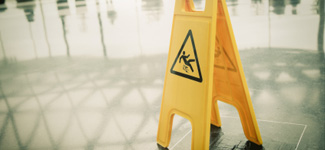 Here at Tranter Cleere, we have helped thousands of unfortunate people who have been victims of an accident caused by someone else. A lack of adherence to health and safety guidelines is a serious issue and can cause injuries that could change your life. This is why our highly experienced solicitors evaluate every claim individually, ensuring that we can offer specific advice unique to your situation.
You may be eligible for compensation for medical care that you need, any loss of wages during the time that you have had to take off work, or for the trauma of suffering injuries. Here at Tranter Cleere, we believe that you should be receiving the compensation that you deserve.
If you want to claim compensation for your health and safety injuries, or just want to know if your injuries qualify for this type of claim, call our team today on 0800 6 12 11 13 for more information.
No Win, No Fee, Hassle-Free Process